sold at Morphy's Auction (2015)

We have been fortunate enough to add an amazing new classic to the collection. This '66 Impala SS427 is an all original find with only 35k miles. It is probably one of the best documented cars I have ever seen with a complete history (including video interviews with the gentleman who owned the car for 42 years).

Below the pictures (and there are many) is the story behind this "Brass Hat" car. Enjoy and thanks to the folks at myrod.com for selling us this beauty.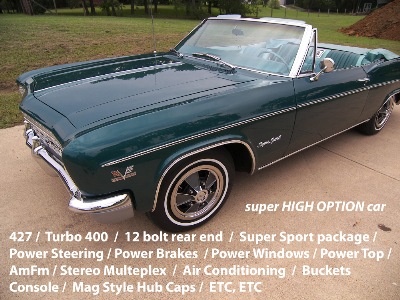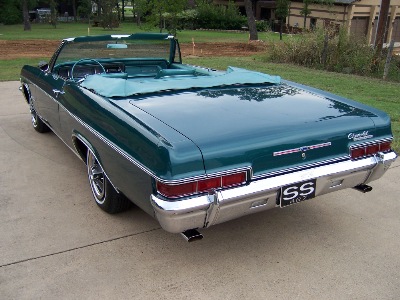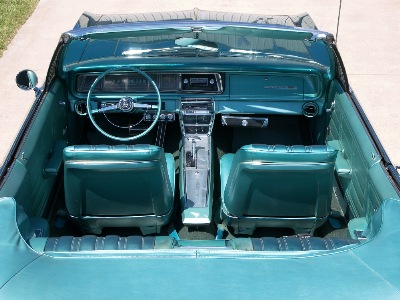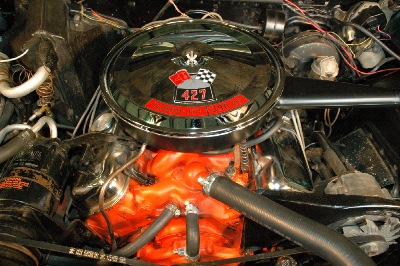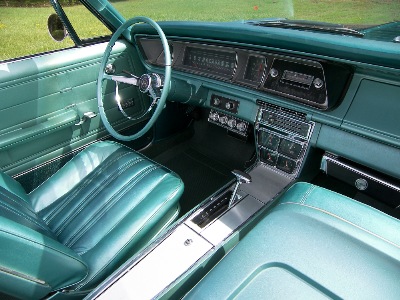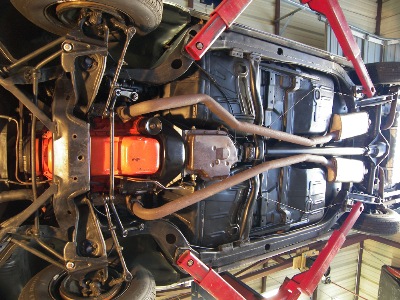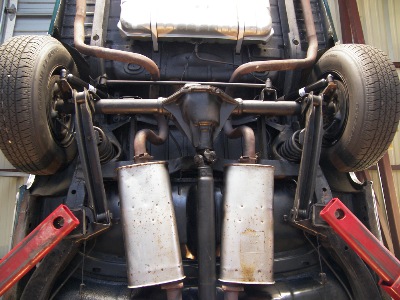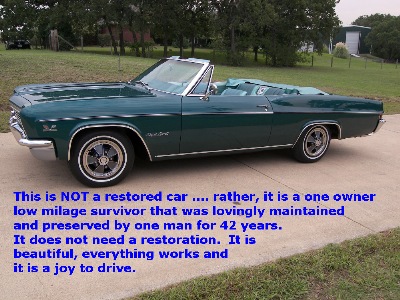 And now for the history of this very special automobile. This Impala SS427 is a true "Brass Hat" (built for a GM executive) internally ordered 427 Super Sport Impala Convertible. The car was special ordered by GM's Southwest Zone Manager, Robert Chandler.

This was to be Mr. Chandler's last company car as a corporate executive. Within months after taking delivery of his Impala, Mr. Chandler received his own GM Dealership in Paris, Missouri called Van Pragg-Chandler Chevrolet & Oldsmobile.

As a GM executive, Mr. Chandler was well aware of the coming introduction of Chevrolet's new and now famous top weapon, the 427. He submitted an internal order for the ultimate Impala Super Sport Convertible that would be loaded with options and have a high impact color combination all intended to showcase the new and mighty 390HP 427 engine.

The car is a beautiful Tropic Torquoise with two tone turquoise bucket seat interior. It's a full power car with power windows, steering and brakes. The car also came with the ultra rare Factory Air Conditioning, AM/FM Radio with Multiplex Stereo, rear speaker option, deluxe simulated magnesium wheels, front and rear bumper guards, full tinted glass, deluxe seat belts, brushed aluminum console and the stacked guages which were unique to 1966.

What really makes this car special is the high performance driveline in a combination available for the first time. This included the heavy duty 12 bolt rear and heavy duty Turbo 400 transmission mated to the 427 power plant. All of which are still original and numbers matching to the car.

Mr. Chandler would log only 2,000 miles on the odometer as a GM executive before he would leave GM and sell the car at the grand opening of his new GM Dealership to it's one and only registered owner for the next 42 years. Mr. Dick Eckman. Included in the amazing documentation for this car is a video interview with Mr. Eckman discussing the history of the car. The Protect-O-Plate shows the car going from Mr. Chandler's dealership to Dick Eckman.

Mr. Eckman purchased the car strictly for pleasure driving and it was never used as his primary transportation. From 1966 to 2008 (42 years), Mr. Eckman drove the car a mere 32,522 miles, bringing the total mileage to 34,522 at the end of 2008. Both Mr. Eckman and Mr. Chandler's son are recorded on video confirming the history of the car.

Given the extensive documentation of it's history and the extremely low production numbers for 1966 Impala SS427 Convertibles (estimates at less than 100 produced), this may be the finest remaining example of an original, unmolested, SS 427.